The BIG question – How it works?
Our advanced CoolTech® technology uses controlled cooling to target and destroys only the fat cells. Fat reduction only occurs in the designated treatment area.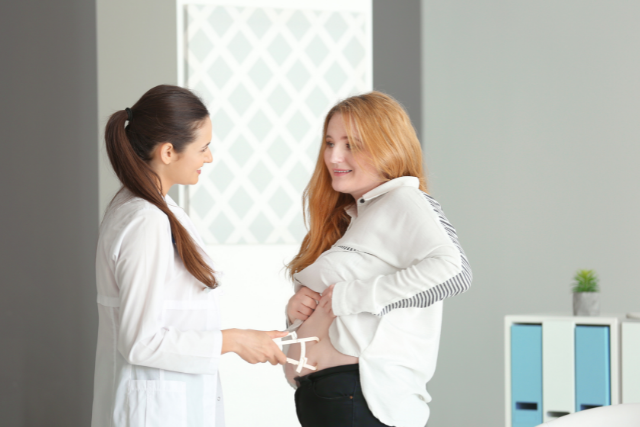 You can expect a 30-40% reduction in the size of the treatment area from a single session. The full effect of the procedure usually takes 2 to 3 months to develop.
After your fat freezing session, your body naturally starts eliminating dead fat cells, so all treated fat cells are removed for good.
Sculpt Your Ideal
Body Weight
No Surgery &
No Anaesthesia
What can you expect on the day?
To begin, the target areas will be marked on your body to ensure correct placement of the applicator. Once you are settled in comfortably, a Coolpad (anti-freeze membrane) is placed on the skin surface to protect it. After positioning the applicator, the fat pocket is drawn up into the 'cup' of the hand piece.
There will be some tightness felt by the vacuum pressure and a tingly cold sensation for only 10 minutes until the entire area is numbed by the low temperature.  When the applicator is removed, the treated area will feel cold and firm to the touch.
A 5 minute after-treatment massage will help restore the frozen fat layer back to normal and will also assist in optimising your weight loss results. The treated area might remain tender and there may be slight intermittent tingling or numbness for around 4 weeks afterwards. This is normal and a good sign the treatment has taken effect. You can return to your normal daily activities immediately after as it is a non-invasive procedure. This is one of the reasons that fat freezing or cryotherapy is such a sought after service.
---
How Many Cryotherapy Treatments Will I Need?
On an average, a 30-40% reduction in the size of the treatment area  can be seen from a single session.
The full effect of the procedure usually takes 2 to 3 months to develop. You can opt for a second treatment to see an even better result, although the results won't be as dramatic as they were for the first session.
A maximum of only 3 sessions can be performed on the same area and needs to be spaced 10-12 weeks apart. During the consultation you will be advised of the best treatment plan to suit your needs. We want you to be happy with your results so offer a full body analysis and consultation before we begin so you can get optimal results in the shortest time possible.
Sculpt your beautiful figure and your ideal body weight through fat freezing
We can also create a tailored weight loss plan to help achieve your desired goals.